The countdown to the 2023 IAG Asian Gaming Power 50 Gala Dinner is on!
DAYS : HOURS : MINUTES : SECONDS
Long-format highlights (5m 03s)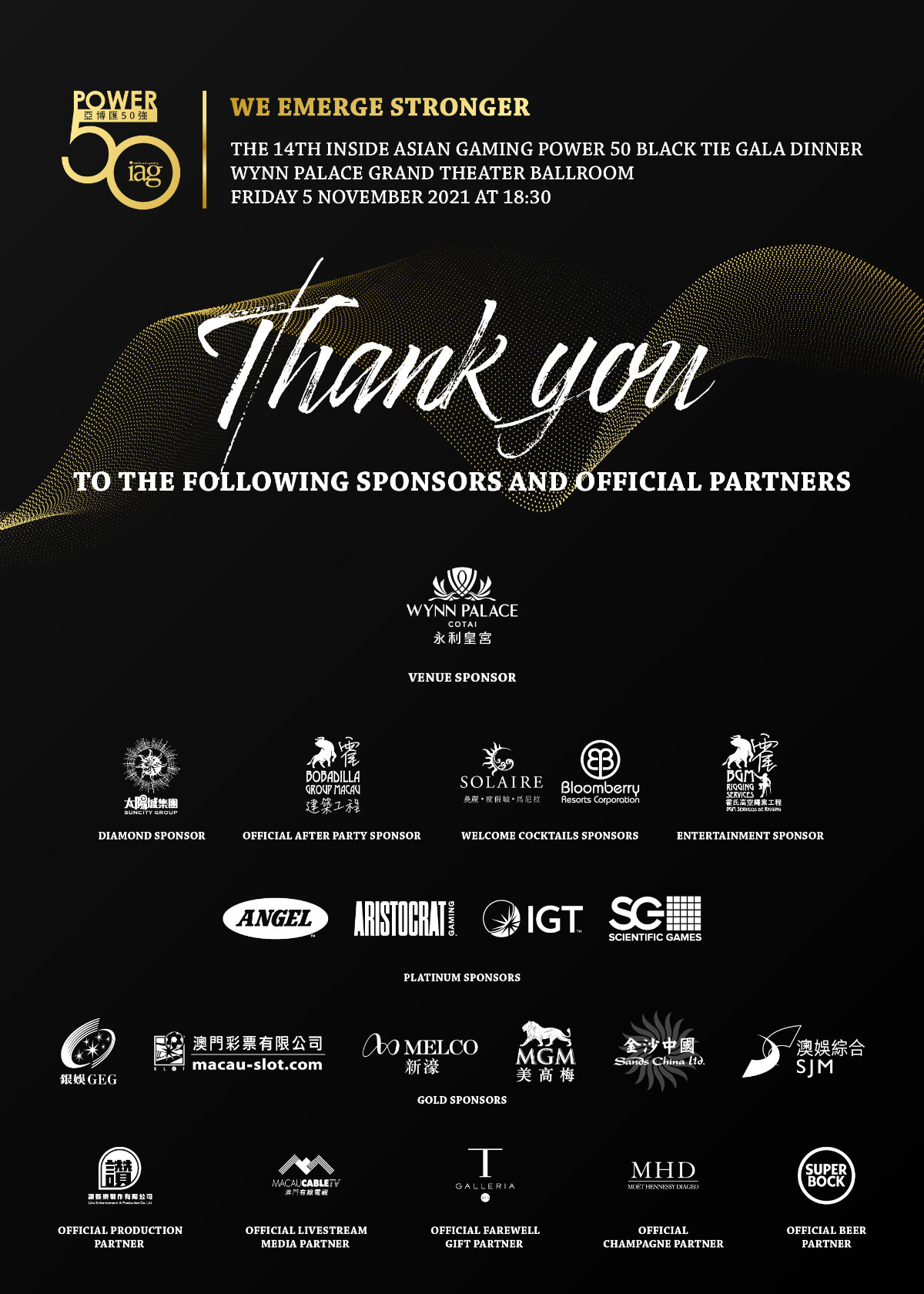 Short-format highlights (1m 24s)

Rank
Power Score
Name
Title
Organization
1
4,490
FRANCIS LUI
VICE CHAIRMAN
Galaxy Entertainment Group
2
3,636
LAWRENCE HO
CHAIRMAN AND CEO
Melco Resorts & Entertainment
3
3,295
LIM KOK THAY
CHAIRMAN AND CEO
Genting Berhad
4
2,809
PANSY HO
CO-CHAIRPERSON AND MANAGING DIRECTOR
MGM China
5
2,478
ROB GOLDSTEIN
CHAIRMAN AND CEO
Las Vegas Sands
6
1,689
WILFRED WONG
PRESIDENT
Sands China
7
1,572
ALVIN CHAU
CEO AND DIRECTOR
Suncity Group
8
1,344
MATT MADDOX
DIRECTOR AND CEO
Wynn Resorts
9
1,335
WINFRIED
ENGELBRECHT-
BRESGES
CEO
The Hong Kong Jockey Club
10
1,329
ENRIQUE RAZON JR
CHAIRMAN AND CEO
Bloomberry Resorts Corp
11
1,305
MASAYUKI GOTO
PRESIDENT AND CEO
Japan Racing Association
12
1,209
CHEN LIP KEONG
FOUNDER, CONTROLLING SHAREHOLDER AND CEO
NagaCorp
13
1,186
ANGELA LEONG
CO-CHAIRMAN AND EXECUTIVE DIRECTOR
SJM Holdings
14
1,110
MATT BEKIER
MANAGING DIRECTOR AND CEO
Star Entertainment Group
15
1,102
PATRICK DUMONT
PRESIDENT AND COO
Las Vegas Sands
16
1,017
DAISY HO
CHAIRMAN AND EXECUTIVE DIRECTOR
SJM Holdings
17
1,011
IAN MICHAEL COUGHLAN
PRESIDENT AND EXECUTIVE DIRECTOR
Wynn Macau
18
1,004
DAVID ATTENBOROUGH
MANAGING DIRECTOR AND CEO
Tabcorp
19
1,001
LINDA CHEN
VICE CHAIRMAN, COO AND EXECUTIVE DIRECTOR
Wynn Macau
20
998
KEVIN KELLEY
CHIEF OPERATING OFFICER, MACAU
Galaxy Entertainment Group
21
972
LEVO CHAN
CHAIRMAN AND EXECUTIVE DIRECTOR
Tak Chun Group
22
964
GEORGE TANASIJEVICH
MANAGING DIRECTOR
Marina Bay Sands
23
955
HAN CHANG-WOO
CHAIRMAN AND CEO
Maruhan Group
24
952
BILL HORNBUCKLE
CEO AND PRESIDENT
MGM Resorts
25
942
TAN HEE TECK
PRESIDENT AND COO
Genting Singapore
26
933
EVAN WINKLER
PRESIDENT AND DIRECTOR
Melco Resorts
27
907
GRANT CHUM
COO AND EXECUTIVE DIRECTOR
Sands China
28
854
LIM KEONG HUI
DEPUTY CEO AND EXECUTIVE DIRECTOR
Genting Berhad
29
828
PHILLIP CHUN
CHAIRMAN
Paradise Group
30
827
AMBROSE SO
VICE CHAIRMAN, EXECUTIVE DIRECTOR AND CEO
SJM Holdings
31
789
LEE CHOONG YAN
PRESIDENT, COO AND EXECUTIVE DIRECTOR
Genting Malaysia
32
764
NICHOLAS NIGLIO
NON-EXECUTIVE DIRECTOR
Rich Goldman
33
744
BARNI EVANS
CHIEF EXECUTIVE OFFICER
Sportsbet
34
736
HENRY CHENG
CHAIRMAN
Chow Tai Fook
35
735
MICHAEL AHEARNE
CHIEF EXECUTIVE OFFICER
SkyCity Entertainment Group
36
732
YOJI SATO
DIRECTOR AND SENIOR ADVISOR
Dynam Japan
37
721
JUN FUJIMOTO
REPRESENTATIVE DIRECTOR AND PRESIDENT
Universal Entertainment Corp
38
704
DAVID SISK
CHIEF OPERATING OFFICER, MACAU RESORTS
Melco Resorts and Entertainment
39
700
LEE SAM-GEOL
CHIEF EXECUTIVE OFFICER
Kangwon Land
40
677
KINGSON SIAN
PRESIDENT AND CEO
Travellers International Hotel Group
41
645
CHAN MENG KAM
PRESIDENT
Golden Dragon Group
42
636
PAUL TOWN
CHIEF OPERATING OFFICER
Marina Bay Sands
43
620
HUBERT WANG
PRESIDENT AND COO
MGM China
44
614
JAYDEV MODY
CHAIRMAN
Delta Corp
45
591
JAY CHUN
CHAIRMAN AND MANAGING DIRECTOR
Paradise Entertainment
46
588
ANDREA DOMINGO
CHAIRMAN AND CEO
PAGCOR
47
583
THOMAS ARASI
PRESIDENT AND COO
Bloomberry Resorts Corp
48
574
BYRON YIP
PRESIDENT
Tiger Resort, Leisure and Entertainment Inc
49
570
KENNETH FENG
PRESIDENT, STRATEGIC AND CFO
MGM China
50
565
STEPHEN HO
CHIEF EXECUTIVE OFFICER
Macau Slot
The next five
In order to rank the 50 most powerful people in Asian gaming, the panel considered almost 100 candidates. These five are the people knocking on the door of the Power 50 and those we currently consider the most likely new entrants next year. Although we did rank these five people 51 through 55, we've listed them below in alphabetical order. You'll just have to guess who came in at number 51!
Ones to watch
Aside from the 50 people that made our final list and the many others we considered, a handful stood out as particularly worthy of mention. These are the people whose star is on the rise, are in a company worth keeping an eye on or in some cases have very much remained in the news in recent months.
Name
Title
Organization
TED CHAN
CHIEF OPERATING OFFICER – JAPAN DEVELOPMENT
Galaxy Entertainment
Group
DAVID CHOW
CO-CHAIRMAN AND NON-EXECUTIVE DIRECTOR
Macau Legend Development Ltd
CLARENCE CHUNG
EXECUTIVE DIRECTOR
Melco International Development
LI CHI KEUNG
MANAGING DIRECTOR
Macau Jockey Club
VIRGINIA LAM
EVP AND CHIEF
CUSTOMER OFFICER
Sands China
ANDREW LO
EXECUTIVE DIRECTOR AND CHIEF INVESTMENT OFFICER
Suncity Group
STEVE McCANN
CEO and MANAGING DIRECTOR
Crown Resorts
ARNALDO HO
ASSISTANT CHIEF OPERATING OFFICER
SJM Resorts
EILEEN LUI
HUMAN RESOURCES AND ADMINISTRATION DIRECTOR
Galaxy Entertainment Group
NG MAN SUN
CHAIRMAN AND CEO
Century Entertainment International
DHAMMIKA PERERA
CHAIRMAN AND
MANAGING DIRECTOR
Vallibel One
ANDREW TAN
CHAIRMAN
Alliance Global Group
LAWRENCE TEO
CHIEF OPERATING OFFICER AND EXECUTIVE VICE PRESIDENT
Lotte Tour Development Group
BEN TOH
CHIEF FINANCIAL OFFICER
SJM Holdings
ALBERT YEUNG
CHAIRMAN
Emperor Group
SONNY YEUNG
EXECUTIVE DIRECTOR
AND CHAIRMAN
Success Universe
ED TRACY
CHIEF EXECUTIVE OFFICER
Hard Rock Japan
RAVI WIJERATNE
CHAIRMAN
Rank Holdings
KIM WONG
OWNER
Oriental Group
YANG ZHIHUI
CHAIRMAN AND EXECUTIVE DIRECTOR
Landing International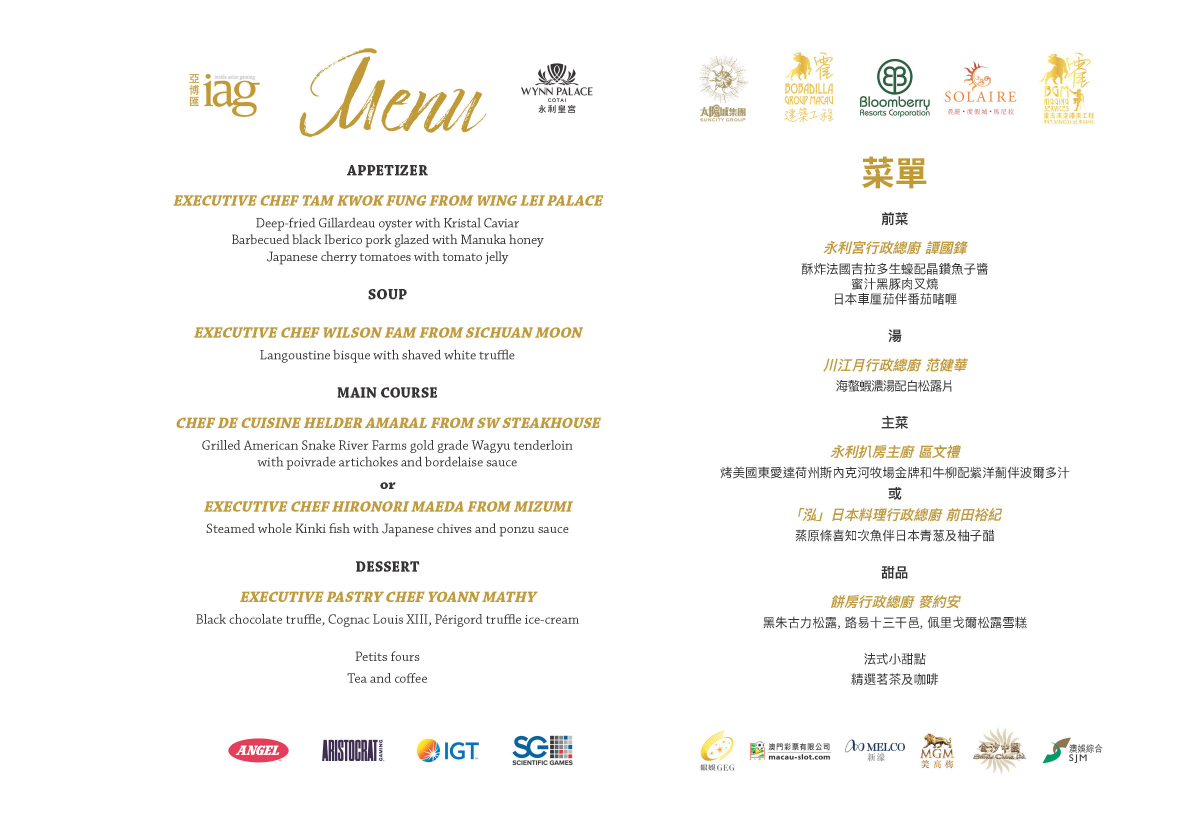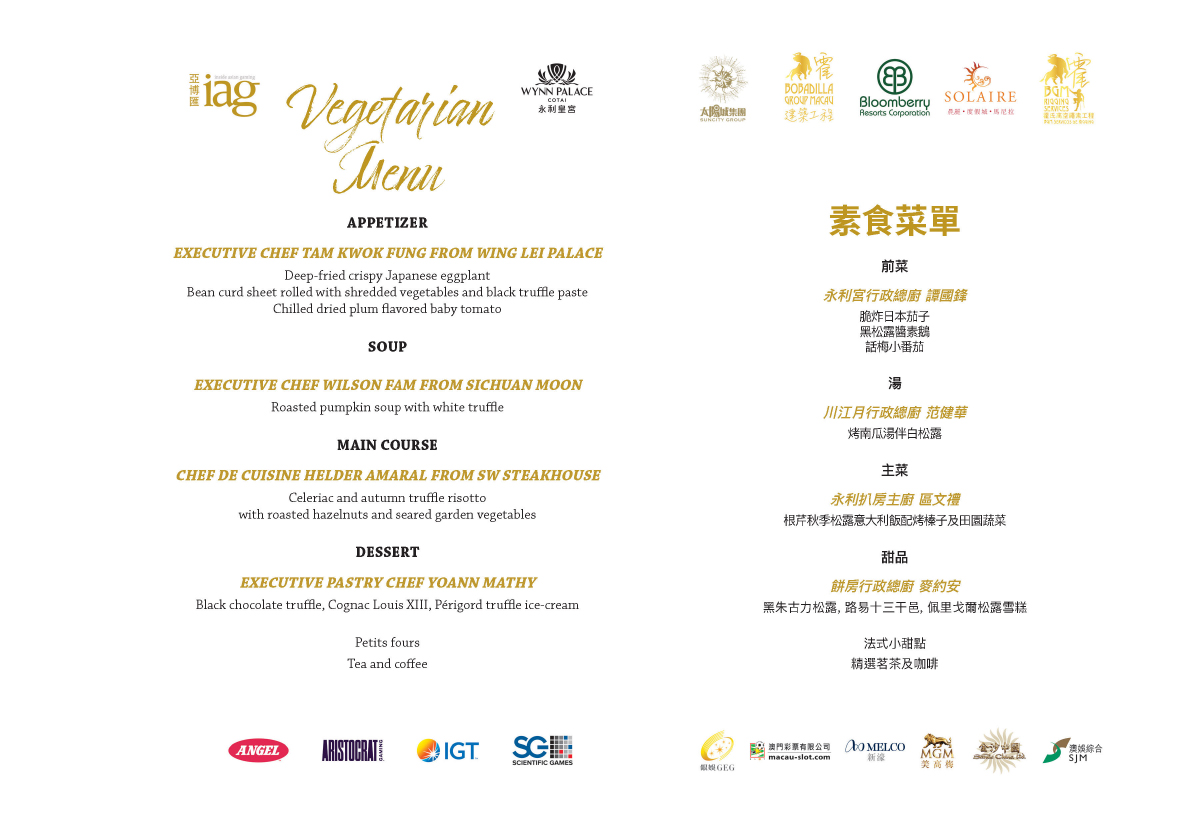 Photo Live Streaming
As photographs were taken during the event, many were uploaded to a website and available for download by guests within a few minutes. They were, and still can be, accessed via the following QR code: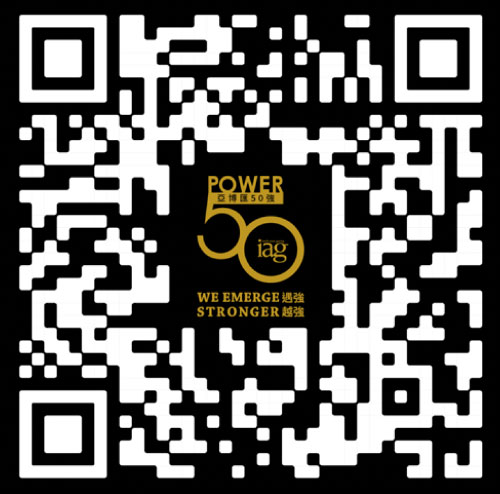 The Pre-Event Anticipation

The Bloomberry Solaire Red Carpet Welcome Cocktails